For many years, traffic control has relied solely on human judgment and expertise to guide the public through work zones across the U.S. In modern times, technology has also played an important role in our everyday lives for some time now, and it is ever increasing as we make advances in technological innovation for various trades. Perhaps new breakthroughs in technology will enable us to create safer, smarter work zones across our roadways to further improve not only our country's infrastructure, but the productivity and efficiency of our work.
Automation has become an everyday essential for many of us. Automated bill pay, apps, thermostats, coffeemakers… so many things we don't often think of as we grow accustomed to their function. Furthermore, what you may not be aware of is that technology has also become employed in the traffic control industry as we face increasing phenomenons of distracted driving. Unfortunately, every construction season, flagging personnel deaths and near misses continue to occur on our highways. As a growing and promising solution, testing of AFAD's has been underway. For some time now, automated flagger assistance devices (AFAD's) have been employed for testing and implementation all over the country. Managed by traffic control professionals, these devices are definitely getting attention from drivers passing through roadside construction sites.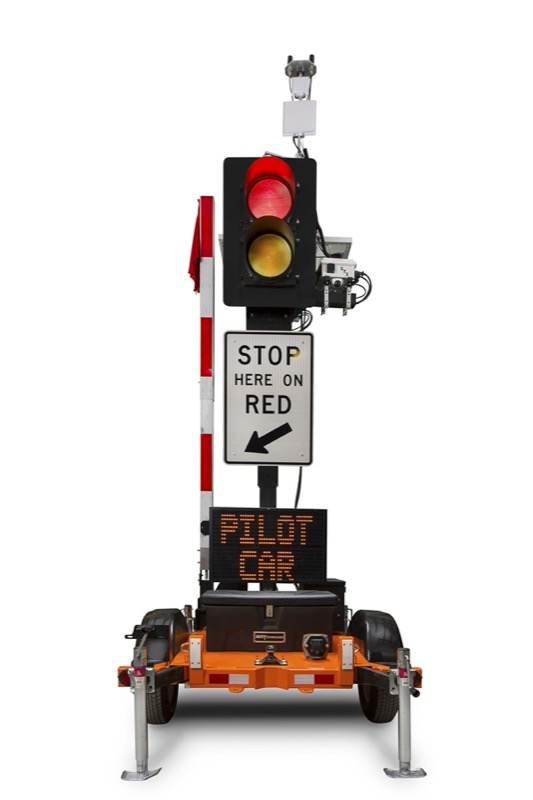 What are AFAD's?
Automated Flagger Assistance Devices are mechanically operated devices for temporary traffic control which use traditional flagging principles. These devices provide not only safe but efficient traffic control for a variety of work zones. AFAD's take the bodily place of flaggers up close roadside, instead, putting them at further distances from moving traffic; decreasing the high risk factors of working near roadways. Remotely monitored traffic management offers great improvement of the real-world working conditions for the safety of everyone involved with roadside construction.
When and where they are used
A variety of complex work environments warrant the highest benefit for AFAD's. Bridge construction, for example, where there is little to no option of an escape route for flaggers, is an excellent application for AFAD employment.
Another application in which MUTCD (Manual on Uniform Traffic Control Devices) standards commit the use of AFAD's is in situations where there is only one lane of traffic traveling in the direction controlled. Automated devices are functional for an array of field work from complex detours, simple lane closures, and short to long term projects.
The outlines for use are not specifically mapped out, but rather recommended by the MUTCD based on some considerations:
Visibility
Safety precautions
Width of the roadway
Traffic volume
Additional sign presence and pavement markings
AFAD's are adopted on a state-by-state basis, and we are glad to confirm that Washington follows MUTCD guidance. Both Idaho and Oregon fully recognize the use of AFAD's for temporary traffic control. States which do recognize their use, however, also have limitations on how they can be applied such as the length of the project and traffic volume. With that mentioned, here is breakdown of advantages and disadvantages:
Advantages:
Field workers are kept out of harms' way. Devices are also bigger and more visible to motorists.
Controlled by a professional in which certification is provided by TraffiCorp.
Message boards convey pertinent information to motorists
Disadvantages:
Not all states recognize the implementation of AFAD's; Still limitations on use.
Though easy to haul, stationary function limits use for moving operations such as crack sealing or pot hole repair.
Familiarity with motorists is still low; confusion about how to proceed with different signals
Our Partnership
Here at TraffiCorp, we have partnered with Superior Traffic Services, a nationally recognized leader of smart work zone devices. A combination of over 30 years traffic control services with design engineering of NASA Deep Space Network spacecraft control, Jeff Hollenback and Jonathan Walther united their expertise to culminate Superior Traffic Services patented Real-Time Traffic Management System (RTTMS). Various devices offered enable us here at TraffiCorp to provide greater safety to our crew members, greater efficiency to our clients with flexible accessibility, and increased understanding to motorists in navigating work sites around our ever growing cities.
Some of their unique offerings to traffic management professionals such as TraffiCorp include:
Real-time monitoring and control 24/7/365
Unmatched reliability
A fleet of versatile devices for customized traffic control solutions
Easy programming, monitoring, and function
Check out portable traffic control devices in use across the U.S.!
We are proud to serve the Northwest alongside Superior Traffic Services!